Need to learn more about computers, the Internet, programming, how to use the latest software?

Are you interested in keeping your knowledge skills on the leading edge? If you are, then NTPCUG is where you will want to be

.
Computer Users
IT Professionals
Developers
Small Business Owners
Next Meetings
(all on 3rd Saturdays)
August 17, 2019
September 21,  2019
October 19, 2019
November 16, 2019
December 21, 2019
Here's what is planned for our

August 17th

meeting:
(Special Interest Groups)
Home Automation
8:00 – 9:00
Home Automation and Home Theater come in an endless range of capabilities, complexity, and price. Come join us as we cover this new and exciting area. Home automation covers everything from setting your thermostat to having your refrigerator order milk. Join us!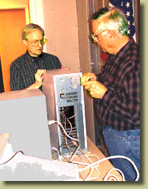 Powershell
8:00 – 10:00
In the first hour (8:00-9:00) we cover topics and demonstrations that come up in informal discussion.
At 9am, general Q&A session – bring your questions!!
Making Money Online
8:00 – 9:00
For the August 17th meeting, the presentation will feature a special guest speaker who is a long-time successful Internet marketer, Bill Platt. In addition to covering Bill's background, we will also discuss the new joint venture that he is starting with Howard Harkness.
SPECIAL PRESENTATION
9:00 – 10:00
 The Pentester Blueprint: A Guide to Becoming a Pentester, by guest speaker Phillip Wylie.
Pentesting, or ethical hacking as it is more commonly known, has become a much sought-after job by people in IT, InfoSec, or those just trying to get into the industry. In this presentation, Phillip Wylie shares the blueprint for becoming a pentester.
Windows Tips & Tricks
10:00 – 11:00
If you have a "troubled" system, contact Chuck or Gil for a possible "Live, No Net" troubleshooting session in front of the group.
Microsoft Office Suite
9:00 – 10:00
Excel. Frank Tubbs will be returning with exciting topics on Excel. Q&A always an option.
AppDev
10:00 – 12:00
Chris Morgan will continue with his mini-series on the Divi WordPress theme – a very full-featured web design 'theme' and page builder that doesn't rely on knowing HTML or CSS. It will be the new look for our NTPCUG website.
This will be Part II of the short series. We will look at page formatting, editing content, and creating a blog entry.
Windows Inside/Out
12:30 – 1:30
Windows 10 1903 Experiences

Office 2019 Experiences
Wireless Communication
12:30 – 1:30
TBD